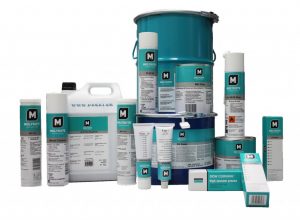 RODA IRUÑA is the official distributor of MOLYKOTE lubricants brand.
You can count on MOLYKOTE brand specialty lubricants from Dow Corning to help get the job done right in industrial assembly and maintenance lubrication. These Smart Lubrication solutions can help control friction and wear to save energy, extend lubrication intervals to reduce maintenance, and enhance equipment reliability to maintain productivity.
Choose the right lubricant based on load, environment, temperature and speed.
Our extensive line of high-performance MOLYKOTE specialty lubricants gives you options for meeting your industrial lubrication needs for load, environment, temperature and speed. We offer additional service which will give you the possibility of rationalizing the lubricants consumption in your company.