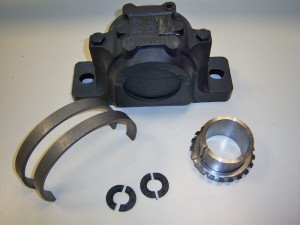 These kind of housings  are designed in accordance with a modular concept. This allows the fitting of rolling bearings of various diameter and width series.
The housing  can accommodate three different self-aligning bearing types from 20 bearing series, namely self-aligning ball bearings, barrel roller bearings and spherical roller bearings if the named bearings have an outside diameter of 160 mm. These kind of housings  can also accommodate deep groove ball bearings and split spherical roller bearings.
Bearings from different diameter series with the same outside diameter have different bore diameters.
The method of locating the bearing on the shaft is also significant:
direct seating or location using an adapter sleeve results in different shaft diameters.
In these housings, this gives different sizes of gap between the shaft and housing bore, depending on the bearing fitted. This gap is taken up by the seal.
The dimension tables indicate the suitable seals and covers for the bearings listed. If the housing bore allows a different bearing to be used, the seals must be selected as appropriate.
In size  larger, the housings have an eye bolt that must not be subjected to a load greater than the mass of the housing including the bearing.
The essential advantages of these housings  are as follows:
Simplified stockholding due to the modular concept, with one housing size suitable for various shaft diameters.
High load carrying capacity.
Depending on the operating conditions, double lip seals, V ring seals, labyrinth seals, felt seals or combined seals may be used. Special seals are available by agreement.
Locating bearings are located centrally by means of two locating rings of identical width.
Flat end faces on the housing base allow abutment against stops if high forces do not act on the mounting face in a purely vertical direction.
Holes can be made at marked points on the housing for: lubrication and monitoring systems, fixing screws, parallel or tapered pins.