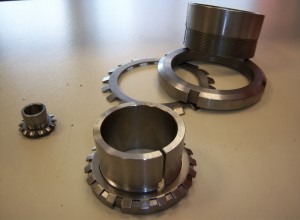 Adapter sleeves are suitable where bearings with a tapered bore are to be located on cylindrical shafts. They do not need to be secured on the shaft by any additional means. The bearings can be positioned at any point on smooth shafts.
If adapter sleeves are used with a support ring on stepped shafts, the bearings can be axially located to high accuracy. In addition, this gives simpler dismounting of the bearings.
Adapter sleeves comprise slotted adapter sleeves, locknuts and tab washers. For larger sizes, retaining brackets are used instead of tab washers.