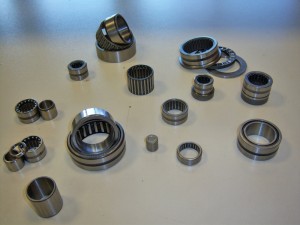 Needle roller bearings are roller bearings with cylindrical rollers that are small in diameter. In spite of their low cross section, needle roller bearings have a high load carrying capacity and are therefore extremely suitable for bearing arrangements where radial space is limited.
There are needle roller bearings in different designs and a wide range of sizes, which are appropriate for different applications. In addition to customized designs, they comprise the following types and components:
Needle roller and cage assemblies, drawn cup needle roller bearings, needle roller bearings with machined rings, combined needle roller bearings, needle roller thrust bearings and needle roller bearing inner rings.