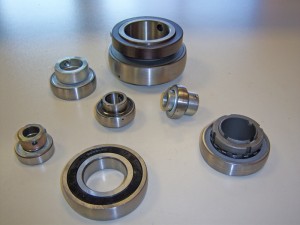 Radial insert ball bearings are single row, ready-to-fit units comprising a solid outer ring, an inner ring extended on one or both sides, cages made from plastic or sheet steel and seals. Bearings with an inner ring extended on both sides undergo less tilting of the inner ring and therefore run more smoothly.
The outer ring has a spherical or cylindrical outside surface. In combination with housing matched to the design, bearings with a spherical outer ring can compensate for misalignment of the shaft.
With only a few exceptions, radial insert ball bearings can be relubricated.
For this purpose, they have two lubrication holes in one plane of the outer ring offset by 180°.
Radial insert ball bearings are particularly easy to fit. They are located on the shaft by means of eccentric locking collars, grub screws in the inner ring, adapter sleeves, drive slots or fit.